Instructor Notes
Instructor Notes
This week we introduce a new module – Module 02: Mediascape.   We will spend the next 3 weeks exploring the vast modern media landscape, aka our digital storytelling platform.  Our classroom.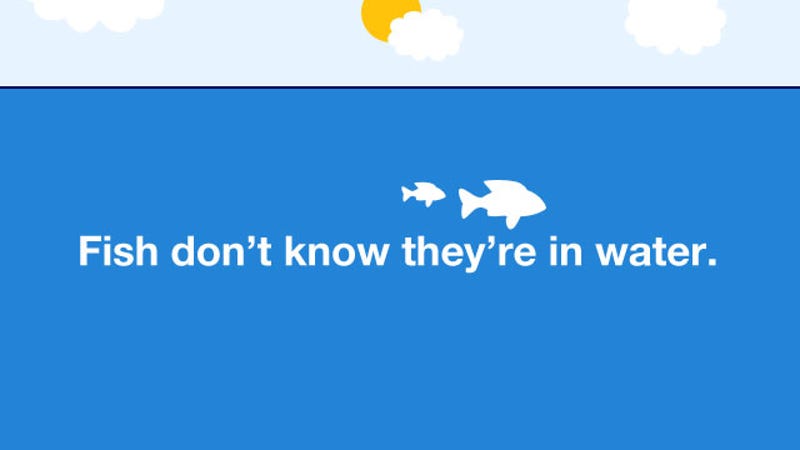 This week we will focus on a theme of Multimobility – a play on words that encapsulates our ecosystem from a broad view. Mobile devices. Multimodal literacy.  Crossmedia stories.  Connected Learning.  Learners today swim in an ocean of digital stories that come at them across a variety of senses.  It is a multitude of multitudes in which stories are told today – in which we learn and discover and consume on a continual basis.
Understanding this ecosystem is important.  For me, it brings to mind the story of This is Water – in our playlist this week.  Do you see what you're swimming in?
Module Notes
Module 02: Context
In this module we will establish the context for this course.
Week 04:  Multimobility  – We'll explore dimensions of the modern media landscape, e.g. multi-device / multimode / multi-literacies. (Challenge – your pick)
Week 05:  Transmedia Storytelling – We'll explore examples and techniques of Transmedia Storytelling.  (Dialog)
Week 06:  New Constructionism – We'll explore participatory storytelling and creative culture.   (Summary & Reflection)
Podcast
Class Podcast
Soundtrack
Class Soundtrack
This is a collaborative playlist in Spotify.  If you have a Spotify account (free), I will invite you to contribute, but it's not required.  This is tied to a few class activities and will evolve based on your ideas and input.
Twitter
Twitter
We've used Twitter extensively in past versions of this course, but it is no longer required.
We'll keep using #inte5340 if you want to post and share things here – it's useful for connecting with #inte5340 and #ds106 communities as well as the Social Fiction Challenge.
If you post to Twitter, be sure to use #inte5340 so we can find it.
Weekly Watch
(1) Digital Transitions | (2) This is Water (3) New Media Coming of Age
(highlight video title above to discuss | click on playlist icon to pick videos 
)
Week Two Tasks
(1) Watch and annotate the videos in the Weekly Watchlist (above).
(2) Complete the Weekly-Thing.   Each week we will ask you to do a small thing related to this week's topic.  The Weekly-Thing is posted to the #mixtape channel on Slack each Tuesday.  Find it.  Do it. Post it to the #mixtape channel.  
(3) Read & annotate the following article(s) within your assigned hypothes.is group:
Kim, G. M., & Omerbašić, D. (2017). Multimodal Literacies: Imagining Lives Through Korean Dramas. Journal of Adolescent & Adult Literacy, 60(5), 557-566.
(4) Complete a Challenge from the Challenges-list.  If you used graphics last week – use AUDIO this week.  If you used audio last week – use GRAPHICS this week.   And don't forget, this is where I want to see you  S T R E T C H yourself.  Your stretch is more important than your art.   Pick any Challenge from the list – your choice.   Make it.  Post it to the #module02 Slack channel.